| | |
| --- | --- |
| | Links at this page were checked at 6 sept. 2007 |
Dutch landscapes and other
free work of the
Dutch painter, illustrator
Piet Eggen

Gallery of the Netherlands.
Click the picture to visit this growing database of pictures of Dutch landscapes, townviews, mill's and rivers.
(Amateur) photographers daily provide this database of new photographs from all over the country. If you want to have your personal photo of any place in the Netherlands added to this database, just feel free to contact me


Old Dutch occupations

Submenu of the history-page


This is the SUBMENU of the History-page.You will find a similar submenu on all main pages of the CarPark site.
The MAIN-MENU can be found at the top of all pages of the site: Index, Intro, Archives, History, Genealogy, Language, Sources and the WareHouse.


Furthermore you'll find some search- and translation tools at the top of each page.The language tool will allow you to translate Dutch words into English.
Search this site gives you the opportunity to search the complete CarPark site for any word.

All EXTERNAL links (links to other sites than the CarPark) will be opened in a new window.






For nice illustrations of old occupations, go to:
List of some old Dutch occupations (there are so much more!)
(E) = Eastern Netherland
(Fr) = Province of Friesland

(Gr) = Province of Groningen
(Lat) = Latin
(Sn) = Southern Netherland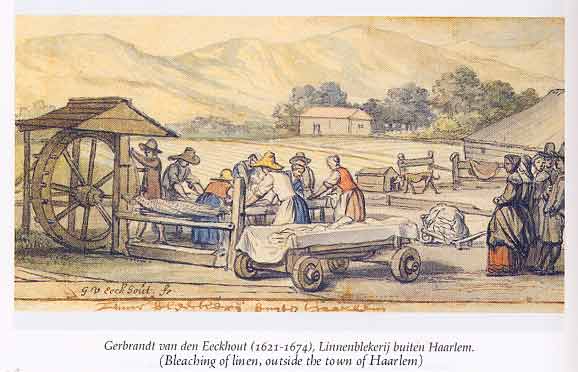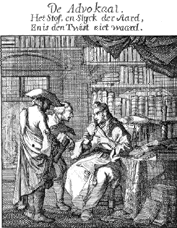 Adelborst = Midshipman, naval cadet
Aerdewasser = Worker in a pottery: where the clay and other raw materials
are cleaned and washed
Aardewerkventer = Pottery seller
A(d)vocaat = Laywer (See also: Taalman)
Adsistent (Fr) = Policeman
Achterwaker = Overseer, nightwatch (See also: Nachtwaerde)
Ackerbouwer = Farmer (without cattle)
Affuytmaeker = Maker of under-carriages of guns, cannon
Albastwerker = Alabaster Sculptor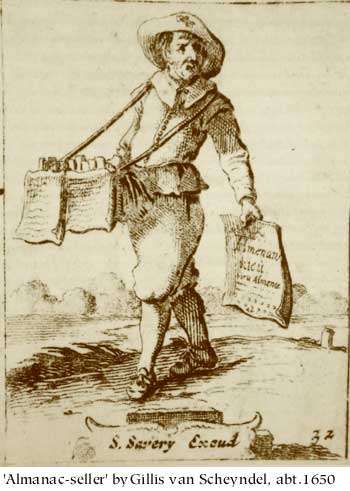 Almanakverkooper = Almanach salesman
Ambtenaar = Civil servant
Ankersmit = Anchor-smith
Antyksnyder = Sculptor
Antykstoffeerder = Engraver of sculptures.
Apotheker = Druggist, Pharmacist
Arbeider = (Day)laborer (male/female)
Arts = Doctor, surgeon, medical man,physician (See also: Heelmeester)
Aschkooper = Ash-buyer
Averman = 1. Arbitrator. 2. Principal, chief of a guild
Azijnmaker = Vinegar-maker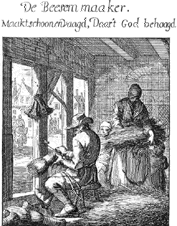 Baaierdboef = Hobo, tramp
Baaiwerker = Baize worker
Baakenmeester (Fr) =Seamark controller
Baanmansknecht = Rope-walk hand
Baas = See: Gildemeester
Backer = 1. Baker 2. Brick-maker (See also: Steenbakker)
Backerige, Backerhege = Female baker
Backersknecht = Baker's assistant
Baertmakere = Barber. See also: Barbier
Baertscheere = Barber. See also: Barbier
Balansmaker = Scale-maker, Balance-maker
Barbier = Barber
Becker(Sn) = See:Backer
Bediende = Servant
Bedmaakster = Bedding maker (female)
Beeldenbakker = Person in charge of firing the clay statues in the oven
Beeldenverwer = Painter of statues
Beeldsnyder = Sculptor
Beeldsnyder in albast = Sculptor of statues in alabaster.
Beeldsnyder in steen = sculptor of statues in stone
Beenhakker/Beenhouwer = Butcher
Beersteker = Cesspool emptier, person who clears away excrements
Beestheer = Cowherd (See also: Koeherder)
Beestsnyder = Sculptor of animals
Begijn = Beguine
Beierman = Bell-ringer
Belleman = Town-crier
Berthouwer = Plank sawyer
Bertsager = See: Berthouwer
Besanier = Sheepskin tanner
Besanter = Police-officer (in Flemish towns)
Beursenmaker = Purse-maker
Beurtschipper = A skipper who sails regular, alone are on turn with others
(beurt means turn) between 2 or more places to transport goods, which can be
almost everything, from flower for bread up to big agricultural machines.
Normally a "beurtschip" as his ship is called has its own means of loading and unloading.
Beuzemaker = See:Bezembinder
Bezembinder = Broom-, besommaker
Bierbrouwer = Brewer of beer
Bierhuishouder = Ownder of a beerhouse
Biesjager = Village policeman
Bijlmaker = Axe-maker
Bikker = See: Steenhouwer/Steenbikker
Binnebinder = Reedthacher's hand
Blaasbalgmaker = Bellows-maker
Ble(e)cker = Bleacher of cloth
Blikslager = Tinman, tinsmith, whitesmith
Bloemist = Florist
Blokmaker (Sn) = Wooden shoe maker
Blok(e)(n)maker = Maker of (ship) pulley's and sheaves
Bode = Messenger, beadle, porter
Bo(e)deker (E) = Cooper (See also: Kuiper)
Boekanier = Buccaneer
Boekbinder = Bookbinder
Boekdrukker = Printer
Boekhouder = Bookkeeper
Boekprinter = Printer
Boekschryver = Author
Boekvergulder = Book guilder
Boekverkooper = Librarian, bookseller
Boer = Farmer
Boermeester = Master-farmer (In lead of the work at the farm)
Bollebakker (Fr) = See:Backer
Bolleloopster (Fr) = Female (street)vendor of bread
Bolleman (Fr) = (Street)vendor of bread
Bombasyndrukker = Printer on bombazine (a fine twilled fabric usually with silk)
Bonge(ne)r = Drummer
Bontwerker = Furrier
Boomgaerder = Gardener
Boomgaertman = See:Boomgaerder
Boommaker = (Punting)pole-, bar-, barrier-,boom- or beammaker
Bootsman = Boatswain
Bordenaar/Bu(e)rdenaer = Person who carries heavy loads (especially fish)
Borduerwerker = See: Borduurder
Borduurder = Embroiderer
Borger = Citizen, burgher
Borstelmaker = Broom-maker
Borstelmaker = Brush-Maker
Borstemvergulder = Broom guilder
Bospoe(de)r = Gunpowder preparer
Bosschieter (Sn) = Hunter, using a rifle (See also: Jager). Also: gunner on a vessel.
Boterfabrikant = Owner of a butter factory
Boterman = Seller of butter
Botschuyver = Fisherman, fishing on flounder, using a sled. this sled was shoved
over muddy sea bottom
Bottelier = Bottler, butler
Bouwknecht = Farmer's hand
Bou(w)man = (tenant)farmer; gardener;vine-dresser
Bouwmeester = Master-builder, Architect
Brander = Distiller
Brandersknecht =Distiller's hand
Brandewynbrander = Brandy distiller
Brauwer/Brouwer = Brewer. Note: can also be Frisian for 'breeuwer' = caulker!
Breeuwer = Caulker
Brenger = See: Bringer
Breuckmeester = Collector of fines, forfeits
Brillenmaker = Optician
Bringer = Postman
Broechoeder = Overseer, supervisor of flat, marshy land(s)
Broekenmaker = Someone making or repairing trousers, pantaloons
Brootbidder = Beggar
Brouc(ken)maker = See: Broekenmaker
Bruycker = Tenant (-farmer) See also: Pachtenaer
Buffel = Executioner, hangman
Bu(i)sman = Shipper of a herring boat
Buidelmaker = See:Beursenmaker
Burgemeester = Mayor
Burg(h)er = Citizen, burgher
Bus(se)maker = Rifle-,gunsmith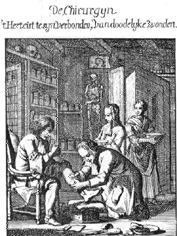 Cabinetmaker = Cabinet-maker, joiner
Cantonbode = Roadman, roadmender
Cantonier = French for 'Cantonbode', see above
Capellier = See: Capellaen
Campellier = See: Capellaen
Capellaen/Kapellaen = Curate, chaplain
Caplaen = See: Capellaen
Caseneer = Cheese-maker
Cater = See: Cot(ter)
Chirurgijn = Surgeon
Cithermaker = Cithara-maker
Clavesimbelmaker = Harpsichord-maker
Cleermaecker = See: Kleermaker
Clinker = Town-crier. (Note: it can as well denote a coin!)
Cloefkapper/Kloefkapper (Sn) = Clog-maker
Clomper/Clumper = Clog-maker (See also: klompmaker and cloefkapper)
Clovenier = Marksman, shot, sharp-shooter
Clovenierscutter = Gunner
Colvenier = See: clovenier
Colporteur = Canvasser, hawker
Commissaris = Commissioner, chief constable
Co(0)man = See: Koopman
Corver = See:Korfmaker
Coster = Sexton, verger,sacristan
Cot(t)er = Small farmer, crofter, cottager
Coussemaker = See: Kousemaker
Craamwaakster (Fr) = Woman, dry-nurse, taking care of mothers with new-born children
Crabverkoper = Seller of crab(fish)
Cremer (Sn) = See:Kramer
Cuper(Sn) = See:Kuiper
Custodimaker = Maker of rear panels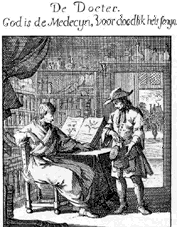 Daghuerder = Day laborer
Dagloner = Day laborer
Dekker = Roofer, slater or reed-thatcher
Derdewaak = (Maritime) Third steersman, -navigator officer
Deurwaarder = Sheriff's officer, bayliff, process-writ-server
Diamantslijper = Diamond polisher, -cutter
Diamantsnyder = Diamond cutter
Diefleyer = Helper of the sheriff
Dienstbode = Maid, servant
Dienstknecht = Hand,servant (male)
Dienstmeid = See:Dienstbode
Doodgraver = Undertaker
Dorpmeester = Sort of Mayor
Draeyer = Turner in wood
Drager = Porter, carrier, bearer
Dreseler(Sn) = See:(Hout)draeyer
Droogscheerder = Cloth worker
Drossaerd = (High-) bayliff, sheriff
Drost = See:Drossaerd

Drucker = Printer (Note: it can bear also the meaning of: 'Oppressor')
Drucker op bombasyn = Printer on bombasine
Drucker van patroonen = Pattern printer


Ebbenlystmaker = Maker of frames in ebony
Ebbenwerker = Cabinetmaker in ebony, worker in ebony
Eertwinner, eerdtwenne = Farmer
Essayeur = Assayer
Etser = Etcher


Fabriekmeester = Town Master builder
Fabrikant = Manufacturer or owner of a factory
Faendrig = Ensign, cornet, warrant officer
Figuerdrukker van hout = Engraver in wood
Finkeler = See:Vinkelaar
Foelgeslager = Goldsmith, silversmith (person who makes leaf-gold and leaf silver)
Fruitenier = Person who sells fruit
Fuselier = Soldier (shooting with a rifle)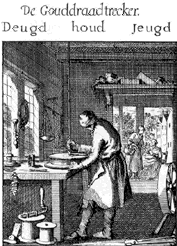 Gaarder, gaerder = Tax-collector
Gareelmaker = Harness, horse-collar maker
Garenspanner = Marauder (using snare, net or wire)
Garentwijnder = Thread-twister
Geelgieter = Pewter-melter
Geestherder = farmer
Geiter/Geyter = Herdsman for goats
Geleitsman = Guide
Gewantsnijder = See: Lakensnijder
Geweermaker = Gunsmith
Gezel = Apprentice (See also: leerling)
Ghersen(n)aer = Grass-seller
Gistkooper = Yeast-buyer
Glasblazer = Glass-blower
Glaesescriver = See: Glasschrijver
Glasschilder = Glass painter
Glasschryver = Glass painting,-engraving
Glaze(n)maker = Glass-, pane-maker
Goeverneur = Governor, commandant
Goe(d)vrouw(Fr) =Midwife
Gordijnmaker = Maker of painted drapery, curtain maker
Gorter (Fr) = See:Grutter
Gouddraadtrekker = Person who has to make gold-thread out of solid gold
Goudslager = Gold-beater
Goudsmid = Goldsmith
Goutsmeet(Sn) = See: Goudsmid
Graendenier = Corn-dealer
Graveur = Engraver
Grietman/Grytman (Fr.) = Head of a 'Grieteny'(=district) in Friesland.
A 'Grieteny' was divided in villages. The system stopped in 1851.
Griffier = Clerk, recorder, registrar
Groefbidder(Fr) = Undertaker's man
Grofbankwerker = Fitter
Grofsmid = (Crude Iron)backsmith (industrial work)
Grutter = 1. Groats-miller, -seller
2.Cornchandler, dealer in groats
3. Hand on a hulling-mill
Gru(y)ter = Person who had to collect taxes on 'gruyt' -a herb used for beer brewing,
that was growing on swampy heathlands in Brabant- for the Dukes of Brabant)
'L'arquebusier', by Jean Louis Ernest Meissonier
Haakbus(ch)schieter = Arquebusier; user of an Arquebus( large-bore hand-gun)
Haammaker = Person who makes hames. It's a name for the saddlemaker.
Halshouwer = Executioner, hangman
Handarbeider = Laborer
Handelaar = Salesman, broker, buyer, businessman, dealer, merchant
Handscoemaecker = Glove-maker
Haringverkooper = Merchant of herrings
Haringverkoopster = Woman merchant of herrings
Harnasvergulder = Gilder of armors or harnesses
Heelmeester = Physician (See also: Arts)
Heiligverkooper = Person who sells holy prints
Hengstenhouder = Owner of stallions
Hengstemenger = Horse-trader
Henneman, hennemelker = Chicken-farmer
Herbergier = Innkeeper
Herder = Sheperd, Herdsman
Heuckmaker = See: Hoyckmaker
Hoede(n)maker = Hat-maker
Hoefsmid = Shoeing-smith
Hoenderkoper = Buyer of chickens
Hoepelmaker = Hoop-maker
Hoer = Whore,harlot,strumpet, prostitute, mistress, hooker, madam, concubine, etc...
Hoerenwaard = Brothel-keeper
Holtmenger = Timber-merchant
Honremenger(Sn) = See:Hoenderkoper
Hooftvrouw = Female brothel-keeper; match-making woman
Hoogbootsman = (Maritime) Person, superintending the standing and running rigging
Hoogloper/Hooploper = (Maritime)16-18 year old boy with a function in between a ship's-boy and an ordinary seaman
Hooskoper(fr) = Vendor of stockings
Hopman = Chief, leader, headman
Horlogiemaker = Horloger /clockmaker/watchmaker
(Hout) draeyer = Turner in wood
(Hout) drucker = Blockprinter
Houtenbeeldsnyder = Wooden statue sculptor
Houtenprinsnyder = Wood engraver
Houtgraveur = Wood-engraver
Houthakker = Wood-cutter, timber-cutter
Houtsnijder = Wood-carver, -sculptor
Houtzager = Sawyer
Hovenier = Gardener
Hoyckmaker = Coatmaker, mantle maker
Huijsevester = Quartermaster
Huishoudster = Housekeeper
Huisschilder = House painter
Huisverwer = See: Huisschilder
Huiswaerder = Person who takes care of impounded household effects
Huucmaker = See: Hoyckmaker
Huyckevaester = Match-making woman. (See also: Hooftvrouw)
Huydekoper = Fell-monger, dealer of hides
Huyssier = Sheriff's officer, bailiff
Huyvetter(Sn) = Tanner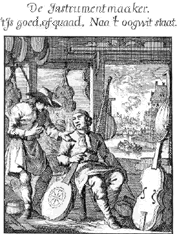 Ingenieur = Civil engineer
Instrumentmaker = (Musical) instrument-maker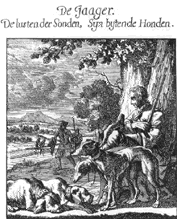 Jager = Hunter
Jongen = Boy.
(Maritime) Jack of all trades
Jongbootsgezel = (Maritime) 16-18 year old boy with a function in between a ship's-boy and an ordinary seaman. See also: Hoogloper
Justicier = Official, in charge of jurisdiction
Juweelwarer = Treasurer
Juwelier = Jeweller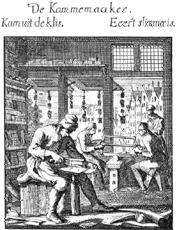 Kaarse(n)maker = Candlemaker
Kaasmaker = Cheese-maker
Kalanderaar = Calenderer. Person who makes cloth glossy by using a special sort
of mangle: a 'kalander' (= calender).
Kamerling = Chamberlain
Kam(men)maker = Comb-maker (for textile industry)
Kantwerkster = Female lace worker (See also: Speldewerckster)
Kapelaan = Chaplain
Kapitein = 1.Captain, Master. 2.Naval Captain. 3.Infantry Captain
Karreman = Cart-, van-driver
Kastelein = Innkeeper or bartender, publican
Kelderman = Inn-keeper
Kerkdienaer = Sexton, verger
Kercmoeder = Sextoness
Kerkenaer = See: Kerkdienaer
Kerkenarmenmeester = Overseer of the poor, deacon
Kerkercknape = See: Kerkerwarer
Kerkerhoeder = See: Kerkerwarer
Kerke(r)warer = Warder, prison-officer
Kerman(Sn/Limburg) = See: Karreman
Kermesmaker = Preparer of crimson
Kersedrager = Person who holds the wax candle during a church-service
Kersemaker(Sn) = Candlemaker
Ketelaer = See:Ketelmaker
Ketelbikker = Boiler-scaler
Ketelboeter/-bueter = Tinker (mostly repairing boilers)
Ketelcnape = House-painters' hand
Ketellapper = See: ketelboeter
Ketelmaker = Boilermaker
Ketelsmid = See:Ketelmaker
Keukenmeid = Cook's helper (female)
Keuter = See: Cot(t)er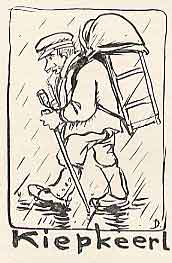 >
Kiepkeerl (Gr)= Pedlar (often coming from Muensterland, Germany, to the Netherlands)
Kieser = (Food) -inspector; critic, reviewer; elector
Kistemaker = Box-maker
Klapwaker = Night-watchman, indicating the time by beating on an obkject
Kleermaker = Tailor
Kleersnijder = See:Kleermaker/Snijder
Kleinlandman = Small-scale farmer
Klenker/Klinker = Town-crier (Note: it can as well denote a coin!)
Klepperman = Watch-man, using a rattle, town-crier
Klerk = Clerk, schoolmaster, registrar, secretary
Kloefmaker = See: Klompmaker
Klokkengieter = Bell-founder
Klokkenmaker = Clockmaker
Klompmaker = Maker of wooden shoes (See also: clomper and kloefkapper)
Klovenier = See: clovenier
Kluynsteker = Digger of wet peat
Knecht = Assistant, apprentice, servant
Koeherder = Cowherd (See also: Beestheer)
Koehoeder = Cowherd(See also: Beestheer)
Koehouder = Cattle farmer
Koekebacker = Confectioner, pastry-cook,baker
Koetsier = Coach-, Cab-man
Koewachter = Cowherd (See also: Beestheer, Koeherder)
Kok = Cook
Kolenbrander = Charcoal-burner
Koman = See: Koopman
Kooltjer(Fr) = Grower of vegetables, especially cabbage and onions
Koopman = Salesman, merchant
Kopergieter = Copper-, brass-founder
Koperslager = Copper-smith, brazier
Korfmaker = Basket-, hampermaker (See also: Corver)
Korvenvlechter = Basket-twiner
Kousemaker = Stocking-, hosemaker
Kramer, kremer = Pedlar, hawker, cheapjack, market-vendor
Krijgsman = Warrior
Kroeghouder = Owner of a bar or cafe
Kroegmeid = Bar-maid
Kuiper = 1. Cooper, bucket-maker. 2. Herring-packer(in buckets).
3. In the paper making -mostly in a papermill- the man who's helping, and standing
asides the big paper-tub.
4. In Groningen coopermakers and cartwrights were working at the same place and
owned by the same proprietor: in this case the 'kuiper' was called 'koeper' -Groningen
dialect- and he could be making wheels, wagons and coaches as well.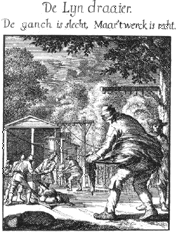 Lakenbleecker = Cloth-bleacher
Lakenboeter = Person Who repairs cloth or clothes
Lakenkooplieden = Cloth-merchant, woollen draper
Lakenscheerder -Cloth-shearer
Lakensnijder- 1.Cloth-, fabric-, clothes-cutter. 2. bowle(s)-entrails cutter
Lakenwerker = Clothworker
Lakenwever = Cloth-weaver
Landarbeider = Agricultural laborer
Landbouwer = Farmer, agriculturalist (See also: Landman)
Landgraaf -Landgrave
Landheer = Landowner, landlord
Landman = Farmer
Landvrouw = Farmer's wife
Lantaarnmaker = Lantarn-, lamp-maker
Lantaarnopsteker = Lamp-lighter
Lantspassaat = Rank in between Corporal and Soldier
Ledezetter = Person setting bone-fractures
Leerling = Apprentice, (See also: Gezel)
Leerlooier = Tanner
Leersnijder = Leatherworker, -cutter
Leertouwer = Currier, leatherdresser
Leestmaker = Maker of lasts
Legger = 1. Bird catcher;
2. Person in charge with the maintenance of a dike
Leggermaker = 1.Water- or wine cask/barrel maker;
2. Writer of the ship's journal;
Leggewerker = Carpet maker
Letterzetter = Compositor, typesetter
Leurder = Hawker, street vendor
Leurster = Hawker, street vendor(female)
Leyker (Fr) = Ditch-cleaner
Leydecker = Slater
Lidzetter = Person setting bone-fractures
Lijfeigene = Serf
Lijmmaker = Glue-maker
Lijmsieder =Glue-maker (sieden = to cook)
Lijndraaier = See: Lijnslager
Lijnslager = Rope-maker
Lintwerker = Ribbon-maker
Logementhouder = Hotel or lodging house operator
Lomberd/Lommerd = Usurer, pawnbroker
Loodgieter -Plumber
Loots = Pilot
Loterijman = Lottery-man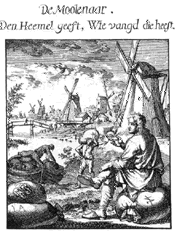 Maaier = Mower, reaper
Ma(e)rte = (maid-) servant
Malienkoldermaker = Coat of mail-maker
Mandenmaker = Basket-maker
Mandenvlechter = Basket-twiner
(-)manger = Merchant, dealer, trader, street-seller, vendor.(The word is derived from
the old saxon word 'mangon', meaning: to trade)
Marketenter, marketenster = Sutler, respectively female sutler
Marktkoopvrouw = Female market-vendor
Marsdrager = See:Marskramer
Marskramer = Pedlar, (travelling) hawker
Matroos = Sailor
Mattenmaker = Mat maker
Meedroger = Person in charge with preparing and drying of madder-root. (Madder -Rubica tinctorum- being a herb of which a red pigment was made. The province of Zeeland was an
important provider of this pigment in the 16th century)
Meerre (SN) = Official, in charge of pegging/staking out landed properties; surveyor.
See also: Merer
Meid = Maid
Meier = (Tenant)farmer; sherriff, bailiff. (Note: The Jewish name 'Meier' -given name
as well as surname- has nothing to do with this profession: it refers a historial event in Jeruzalem)
Melckdierne = See: Melkslijtster
Melkslijtster = Female milk-retailer
Melkverkoper = Milkman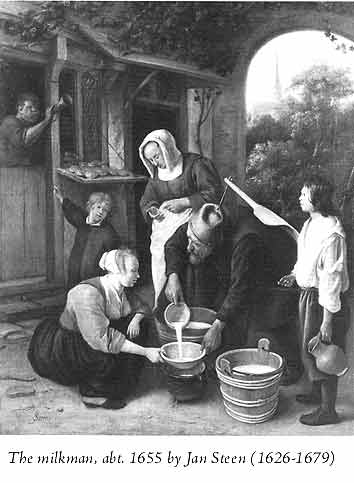 Menger (Sn) = See:Manger.
Mercator(Lat.) = See:Koopman
Merer = See:Meerre
Messenmaker = Knife -maker, -repairer
Metselaar = Bricklayer
Metselaarster -Woman bricklayer
Metser (Sn) = See:Metselaar
Meul(e)meester(Sn) = See:Molenaar
Mijnwerker = Miner
Milicien = Soldier (See also: Soldaat)
Modderleiker(Fr) =Ditch-cleaner (modder = mud)
Molder = See:Molenaer
Molenaer = Miller
Molenaersknecht = Miller's helper
Molenmaker = Mill-constructor
Molenman = See:Molenaer
Molenmeester = Mill superintendence; member of the polder-board
Molkenboer = Dairy farmer
Moller = See: Molenaer
Momber/Momboir (Sn)= Guardian
Mosselman = Mussel-fisher, -seller
Mosterdmaker = Mustard-maker
Muldenaer = See:Molenaer
Mulder = See:Molenaer
Muntenaer = Person who actually mints the coins
Munter = Mint-master (also: person who actually mints the coins)
Muntmeester = Mint-master, moneyer
Mutsenmaakster = Maker of caps, bonnets
Muzikant = Musician

Naaister = Seamstress
Naaldenmaker -Needlemaker
Nachtroeper = See:Nachtwaerde
Nachtwaerde = Night-watchman (See also: Achterwaker)
Nachtwerker = Person in charge with emptying the tuns, butts containing stools, during the night
Naerhurer = Subtenant
Nappendraaier = Turner in wood, making dishes and drinking-cups
Nederbaliu = Bailiff of a lower rank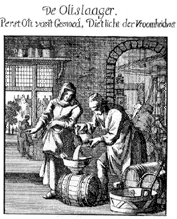 Oge(n)meester, -meister = oculist
Olieslager = Oil-miller,oil-crusher
Olieslagersgast = Helper of an oil-presser
Onderpander = Judicial officer of a lower rank
Onderrechter = Deputy judge
Ondervinder = Inspector, assayer; surveyor
Onderwijzer = Teacher. See:(School)meester
Onderwinder = Representative
Opperclager =Plaintiff, presecutor
Opperman = Hodman
Organist, orgelaer, orgelist = Organ-player
Orgelmaker, orgenmaker = Organ maker
Orlogiemaker = Clock-, watch-maker
Oudecledercoper = Buyer of second hand clothes
Oudegrauwerker = Person who works with old fur
Overman = See: Averman
NB: The Dutch word 'over' can be found quite often as a prefix. In case of the occupations
treated here, one can safely translate this with the English equivalents: head, chief or principal.
Example: schout = sherriff, overschout = head, chief sherriff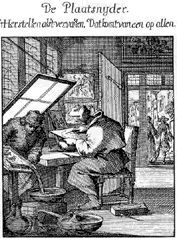 Pachtenaer = Tenant (-farmer). See also:Bruycker
Pamfletverkoper = Seller of pamphlets, lampoons
Panneboeter = Repairer of pans
Pan(n)eelmaker = Panel-maker
Papier verkooper = Person who sells paper
Pa(m)piermaker = Paper-maker
Pappenheimer = Cesspool emptier
Pargamentmaker/Pargameenmaker = See: Perkamentmaker
Parmentier/Parmantier/Permentier = Person who uses and works with fine fabrics, used for clothing
Particulier(e) = Self-employed person
Pasteibakker = Pastry chef
Pasteimaker = Pastry-cook
Paswerker = Precision metal worker
Pellewever = Weaver of fine cloth, like robes of state and table-cloth
Pelsmaeker = Furrier
Pelswerker = See:Pelsmaeker
Pel(st)er = See: Pelsmaeker
Penverkooper = Feather merchant
Perkamentmaker = Parchment-, vellum-maker
Personnagie = Actor
Pickelaer = Stone-cutter (See also: Steen-/Stenenbikker)
Piekenier = Pikeman
Pijpenbacker = See:Pijpenmaker
Pijpenmaker = Pipe-maker
Pijper = Piper, Fifer
Plaatdrukker = (Copper)plate printer
Plaatsnyder = Line-engraver
Plaetdrukker = Printer of line-engravings
Plaetsnyder = (Copper)plate cutter and coppersmith
Plaetsnyder in 't koper = Engraver in copper
Plafondwerker = Maker of ceilings
Ploechmaker = See:Ploeger
Ploechman = See:Ploeger
Ploeger = Ploughman; farmer working with his own plough and horses
Pluggemaker = Bung-, peg maker
Plumecoper = Merchant in down, fluff
Plumer = Blanket-, pillow stitcher
Poete = whore, prostitute
Polderwerker = Worker in a polder
Pompenmaker = Pump-maker
Poorter = Citizen, Burgher
Po(o)rtier = gate-keeper
Popmaker = Doll maker
Poppenstoffeerder -Doll painter, doll decorator
Popverkooper = Doll merchant
Postboode = Postman
Potbakker = See:Pottebakker
Potmaker = See:Pottebakker
Pottebakker = Potter, ceramist, faience potter
Potter = See:Pottebakker
Potverkooper = Pottery merchant
Potverkoopster = Woman pottery merchant
Predikant -Dominee, clergyman
Prenter = See: Printer
Priester = Priest
Prins = Prince
Printer = 1. (Book)printer
2. Functionary charged with printing stamps on cloth
3. Painter or draughtsman
Printsnyder = Engraver, cutter
Printverkooper = Someone who sells etchings
Provest/profest/provoost/proofst/profst/proost = Provost (in it's several meanings)
Pravest/praest (E) = See:Provest
Pruikenmaker = Wig-maker
Putier = 1.Ponce, bully, pimp
2. Whoremonger
3. Night-reveller, hooligan
Putter = See:Pottebakker (Note: also a person who draws water)
Putiererse = Female whorehouse-keeper
Putierinne = Whore, light-o'-love, wanton, woman of easy virtue
Quacksalver = Quack
Quartiermeester = 1. Person in charge with the supervision, control over a certain area
2. Officer on a ship in charge with the watch


Rademaker = Wheelwright, coache-builder, cartwright
Ramaker (Sn) = See:Rademaker
Raemscherer = Person who shears cloth
Raeymaecke(r)(Sn) = See:Rademaker
Redenaer (Sn) = Estate steward
Reepslager = Rope-maker of flat,woven rope
Reetrecker = Surveyor, building inspector
Reeuwer = Layer-out
Rentmeester = (Estate-)steward,(land-)agent
Repemeker = See:Reepslager
Riemmaker = Person who makes, repairs streps and gurdles of leather
Riemslager = See: Riemmaker
Riemsnider =See: Riemmaker
Ringelmaker = Person who makes (metal) rings
Roeper = Town-crier
Rostuuscher = Horse-dealer, -coper
Ruilebuiter = Palaverer, person selling all kinds of things (sometimes using a vessel)
Rustiekwerker = Person who uses natural, rustic wood to make f.i. walking sticks, wooden bridge or garden furniture
Ruiter/Ruyter = Horseman, rider, trooper
Ruwaard = Governor (of a country); garrison commander; overseer, super-intendent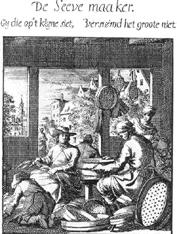 Satyndrukker = Printer on satin coth
Sadelaer (Sn) = See: Zadelmaker
Sallaer (Sn) = See:Saddler
Saeckschaffer = Solicitor
Sandvoe(r)der = Boatman of a ship transporting sand
Schaepherde(r)/-harde(r) = Sheperd
Schaatsenmaker = Skate-maker
Schaper = See:Schaepherde(r)
Scharensliep = Scissors-, knife grinder
Scheepmaker = Shipwright,-builder, or shipwright-hand
Scheepstimmerman = Ship-carpenter
Scheerder = 1.Cloth-shearer. 2.Barber
Schenker = Pourer
Schepen = Sheriff, magistrate, alderman
Scheper = Shepherd
Schepscheerre, schepscherer = Cloth-shearer who was weaving the cloth for the tailor
Scherer, scheer(der), sche(e)rre = 1. barber; 2. (sheep) shearer; 3. cloth-shearer
Scheriaer, scherier = See: Scherer
Schermer = Fencer
Schieman = (Maritime) Person in charge of the care for the fore-mast
Schilder = Painter; House painter. In the early middle ages also the name of a person who made shields
Schilder op doek = Painter on canvas
Schilderyverkooper = Merchant of paintings
Schipper = Skipper, master: most important person aboard. The general manager
Schippersknecht = Skipper's assistant
Schoemaker = See:Schoenmaker
Schoenmaker =Shoemaker, cobbler
Schoesetter,-sitter, -sutter (Sn) = See: Schoenmaker
Scholt(e) = 1. (government official, representative of the Count, Duke or Bisshop;
2. a landlord, or important farmer with much political influence. See also:Schout
Schoolmeester = Schoolmaster, teacher
Schout = Bayliff, sheriff
Schouwkleedmaker = Maker of mantel pieces
Schrader (Fr.) = See:Kleermaker
Schreu(de)r(Fr.) = See:Kleermaker. Can also mean: person who lops trees
Schrijfster = Female author, clark or secretary
Schrijnder = See:Schrijnmaker
Schrijnmaker = Joiner, Cabinet-maker
Schrijnwerker = See:Schrijnmaker
Schrijver = Writer, clerck, secretary
Schrijnemaecker (Sn) = See:Schrijnmaker
Schrobbelaer = Woolcarder, -comber
Schroor (Fr) = See:Kleermaker
Schuiteboer = Boatman for inland navigation.
Schuitemaker = Boat-builder or -hand
Schuitevaarder = Bargeman, bargemaster
Schutter = Marksman, shot
Schuttevaar(Fr.) = See:Schuitevaarder
Seconde meester = (Maritime) person in charge of medical care, assistan of the surgeon
Seper = Soap-boiler, -maker (See also: Zeepzieder/ Ziepseerder)
Seeldraaier = See:Touwslager
Selversmet (Sn) = See: Zilversmid
Setmeyer (Fr) = Tenant-farmer without a tenancy agreement
Sjouwer(man) = Porter, dockworker, load carrier
Skuteboer (Fr) = See: Schuiteboer
Slaaf = Serf
Slachter = Butcher, one who slaughters animals
Slager = Butcher
Slatter (Fr) = Ditch-cleaner
Slootgraver =Ditcher
Smedeman = See: Smid
Smid = Blacksmith (Internationally the most frequently appearing name!)
Smidsknecht = Smith's assistant
Snijder = Tailor (See also: Kleermaker, Kleersnijder)
Snoeier = Pruner, trimmer
Soldaet = Soldier (See also: Milicien)
Speelman = Musician, singer, reciter
Speldenmaker = Pin-maker
Speldewerckster = Female lace worker (See also: Kantwerkster)
Spelmaker = See:Speldenmaker
Spiegelmaker = Mirror maker
Spiegelstoffeerder = Mirror illuminator
Spiegelvergulder = Mirror gilder
Spinder/Spinner = Spinner of wool, fax, etc.
Spinster -Female spinner of wool
Spitter = Digger
Staefmaker = Maker of rods
Steen-/Stenenbakker = Brick -maker
Steen-/Stenenbikker = Brick-, Stonebreaker (See also: Pickelaer)
Steendrukker = Litographer
Steenhouwer = Stonemason, stonecutter
Steenklopper = Stonebreaker
Steenmetser = Bricklayer
Stocker = Executioner; constable
Stocmaker = Maker of sticks, canes
Stocmeester = Warder, jailer
Stocwaerder = See: Stocmeester
Stoel(en)maker = Chair maker
Stoeldraeijer = See:Stoel(en)maker
Stoelschilder = Chair illuminator
Stoelvergulder = Chair gilder
Stofdrukker = Person who prints on fabric
Stoffeerder = 1.Upholsterer (for instance of furniture).
2.Person who does the staffage in a (landscape) painting
3. Decorator of objects
Stoker = Fireman
Stokman = Warder, jailor, (prison)-officer
Stoopgieter = Tinsmith, pewterer
Stoopmaker = See: Stoopgieter
Straetmaker/-meker = Road-maker, paver
Stratenmaker = See:Straetmaker
Strijker = Ironer
Strikker = Snarer
Strodekker = Thatcher
Suikerbakker -Baker of sweets
Suikervergulder -Cake decorator
Suikerwerker = Maker of confectionaries, candymaker
Sutter (Sn/Brabant) = See:Shoemaker
Suytelaer (Fr) = Peddler selling goods door to door
Swertvager (Sn) = See: Zwaardveger
Sylvester (Fr) = Locksman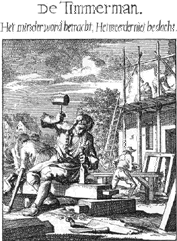 Taalman = See: A(d)vocaat
Tafereelschilder = Person who paints on pannels
Tamboere,-bure = Drummer (See also: Trommenslager)
Tandentrekker = Teeth extractor (often travelling about
Tapijtwever = Carpet-weaver
Tapster = Tavern keper, publican (female)
Tassenmaker = Bag-, pouch-maker
Tavernier = Inn-keeper
Teems(e)maker = Sieve-strainer maker
Tegelbakker (Sn Teegelbecker) = Tile-maker
Tegelzetter = Tiler
Telloorschilder = Plate Painter (Soupe-, Dinner Plate.. )
Tichelaar = See:Tegelbakker
Timmerman = Carpenter
Tingieter = Tinman,tinsmith, pewterer,
Tol(l)ic = Interpreter
Tollenaar = Toll-collector, -keeper (at the town-gate)
Torfman = Peat-farmer
Torftonster = Woman who puts the peat in baskets
Touwslager = Rope maker (See also: Reepslager)
Treckwerker = Weaving-mill worker; pulling up the warp or chain-threads in a large loom
Trippenmaker = Person who makes sandals with wooden sole
Trommenslager = Drummer (See also: Tamboere)
Trompena(e)r(e)/Trumpenaer = Trumpeter (trumpet or trombone)
Trompetslare/Trompettenblaser/Trompetter = See: Trompena(e)r(e)/Trumpenaer
Tuinier = Gardener (See also: Hovenier)
Turfmaker = Maker of peat bricks used for fuel in factory or home
Turfsteker = Peat-cutter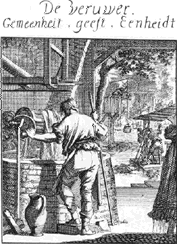 Vaandrig = Ensign, Cornet
Vaendrager(e)/Vane(n)drager, -dreger = Standard-, ensign-bearer; company seargent-major, colour-sergeant /Cornet, ensign. (See also: Vaandrig)
Vachtploter = Person, who's picking the wool of the sheep
Valckenier = Falconer
Varensgezel = Seaman
Veehouder = Cattle farmer
Veerman = Ferryman
Veldwerker = Fieldhand, laborer
Venter = Hawker, huckster, street-trader, pedlar
Verfmaker = Paintmaker
Verfverkooper = Color-pigments merchant
Vergulder = Gilder
Verlichter = Miniature illuminator or-painter
Vernismaker = Varnish maker
Verpleger/Verpleegster = Nurse (male, female)
Versebalie = (Maritime) person in charge of buying fresh greens and meat
Verwer = Dyer of textiles
Vetkoper = Buyer of fat
Vettewarier = Person who sells fatty goods
Vinkelaar = Birdcatcher, fowler
Vischkooper = Person who sells/buys fish
Viss(ch)er = Fisherman
Vissersknecht = Fisherman's assistant
Visverkoopster = Female fish-seller
Vlasbaas = Flax foreman
Vlasverkooper = Person who sells flax
Vlees(ch)houwer = Butcher (See also: Slachter/Slager)
Voerman = Driver, waggoner, carrier
Volder = See:Voller
Voller = Fuller
Voogd = Guardian, governor
Voorzanger = Precentor
Vouwster = Textile folder
Vrachtrijder = Lorrydriver, carrier
Vrymeulenaar = Free miller

Uitraepster = Female sorter (coal, potatoes etc)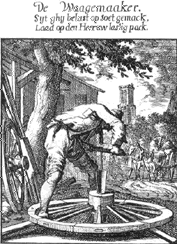 Waard = Public-house keeper, landlord, host, licensee
Wagenaar = See:Wagenmaker
Wagenmaker = Cartwright, wagonmaker, coach-builder
Wandtsnijder = See: Lakensnijder
Wantscheer, -scherer = Cloth-dresser
Wannemaker = Maker of big, flat baskets, used to sift grain from chaff
Wannemaeker(Sn) = See:Wannemaker
Wapensteensnyder = Precious stones seal-engraver
Warmoesier = See:Warmoezenier
Warmoezenier = Greengrocer. Person who grows and/or sells vegetables (originally: cabbage plants and leafy vegatables)
Waschmoeder = Woman in charge of washing cloth, (bed) clothes
Weerd = See:Waard
Weiman/Weyman/Wijman = Hunter, Huntsman (See also: Jager/ Bosschieter)
Werkman = Laborer (male)
Werkmeid/Werkster = Charwoman
Werkvrouw = Laborer (female)
Wever = Weaver (French: Tisserand)
Wieldraeier -Wheelwright
Wielmaker = See:Wieldraayer
Wielwerker = See:Wieldraeier
Wijnkooper = Wine-merchant
Wildschut = Hunter, huntsman
Witter = White-maker, bleacher
Woarmeester = Lock-keeper(Gr)
Wolbereider = Wool-dresser
Wynroeyer = Wine gauger
Wynverlater = Person who poors the wine from one container into the other to filter the wine of sediment

Yker/IJker = Inspector of weights and measurers
Ysersnyder, IJzersnijder = Coin-engraver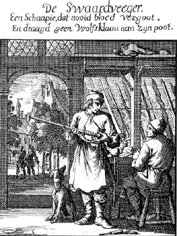 Zadelmaker = Saddler
Zager = Sawyer
Zakenman = Businessman
Zeeldraayer = Rope maker
Zeeman = Seaman, sailor, mariner
Zeemtouwer = A shammymaker, person who makes wash-leather
Zeepzieder = Soap-boiler, -maker (See also: Seper/Ziepseerder)
Zegelaar = See:Zegelsteker
Zegelsteker = Seal engraver
Zeper = See: Zeepzieder
Zeilmaker = Sailmaker
Zeper = See: Zeepzieder
Zevenmaker = Sieve-maker
Ziekentrooster = Visitor of the sick
Ziepseerder = See:Zeepzieder
Zilverdraadtrekker = Person who has to make silver-thread out of solid silver
Zilversmid = Silversmith
Zwaardemaker = Sword-maker
Zwaardveger = Sword-cutler
Zwingelaer= Swingler
Zydeverkooper = Silk merchant